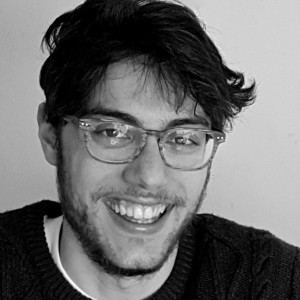 Paolo Mantini
Strings · Double Bass
Paolo Mantini
Was born in Brescia on November 11th, 1991.
He starts applying himself to the study of music at the age of six, he dedicates especially to playing the trumpet, given to him, for his birthday, by his father.
He promptly begins performing concerts with Maestro Ligasacchi's city band.
He afterward enhances the study of other instruments, in particular of the western concert flute, influenced by his brother Nicolò who plays the saxophone, showing a great musical attitude and a remarkable versatility concerning the approach to really different instruments.
Despite the dedication to wind instruments, his desire to compare himself to the music world leads him to attend Maestro Mandonico's mandolin classes, reinforcing his multi-instrument interest.
At the age of twelve he starts attending bass classes, developing a passion for its rhythmic power and funky bassline.
He's fifteen years old when he applies to Luca Marenzio Conservatory of Brescia, being accepted to the double bass academic course with highest honours.
He graduates at the age of twentytwo.
While he's attending doublebass class, he develops a great passion for electronic music and starts studying Sound design and Mixing and Mastering.
He turns up collaborating with many artists, getting into new timbres, and he also begins approaching to electronic synthesizers.
His passion for music, the different influences he experimented in those years and his technical ability bring him to build up a Theremin that he presents, as school project, for his high school diploma.
In 2012 he applies to the conservatory G.Verdi in Milan, for the electronic music class.
During his academic career he has studied among: Maestro Riccardo Crotti (doublebass),
Maestro Giuseppe Chirico (trumpet), Maestro Stefania Maratti (western concert flute), Mr Giulio Corini (bass), Mr London Stern (Electronic music production), Maestro Giovanni Cospito (Electronic music at the G. Verdi conservatory in Milan), Maestro Riccardo Sinigallia (music and immagine at the G. Verdi conservatory in Milan).
He, furthermore, improved himself working with Maestro Enrico Fagone (making himself available for his first official recording) and Maestro Giuseppe Ettore. These two lasts are members of the Scuola Italiana di Contrabbasso, a famous italian doublebass academy
During his career he has also being interested in musical production, founding the independent record label "Ogopogo Records".
At the age of twentythree, just graduated, attends electronic music master at Berklee College of Music of Boston, completing it with the highest honours.
In the same year his brother Nicolò and him found, the musical ideas matching,buying and selling world first portal: Clockbeats.
He gains releases with various labels: Plastic City Fx, Pomgmusic, Eintakt Rohs, NoPolitics, Rebirth and many more.
He is the founder of Clockbeats Orchestra.
Artist Supporters