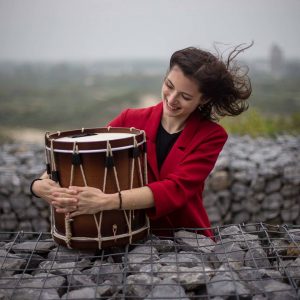 Marianna Soroka
Baroque Ensemble · Percussion
Marianna was born in Poznań, Poland, where she started her musical education at the age of seven playing piano and singing in a school choir. She began studying percussion in high school and continued at The Ignacy Jan Paderewski Academy of Music in Poznań, Conservatorio Superior de Musica del Principado de Asturias in Oviedo (ES), Codarts Rotterdam and the Royal Conservatory of The Hague (NL). She obtained her Master degree in 2016, specializing in contemporary, Latin and early music.
Marianna has been collaborating with groups such as Slagwerk Den Haag, LUDWIG and Vox Luminis, playing at November Music Festival (NL), Utrecht Early Music Festival (NL), Festival de Saintes (FR) and MITO SettembreMusica (IT) among others. She is a founding member of Le Concert d'Apollon and a member of Mitomani folk group.
Recently Marianna has been busy continuing her research about percussion linked to early and traditional music in Europe. She is also working with composer Aurelie Lierman on developing new repertoire for percussion and voice. In recognition of her cultural achievements, Marianna received a scholarship from the Marshal of the Voivodeship of Greater Poland (2014).