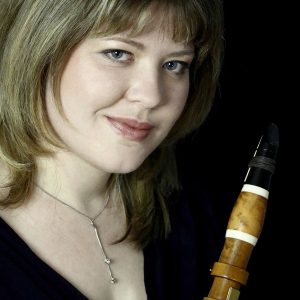 Giulia Zannin
Baroque Ensemble · Clarinet
Giulia Zannin received her first clarinet lessons at the age of eight. She obtained her Bachelor's Degree in 2007 at the Conservatorio di Musica A. Steffani in Castelfranco Veneto (Italy) in the class of Prof. Roberto Scalabrin, followed by a Master's Degree at the Conservatorio della Svizzera Italiana in Lugano with Prof. Milan Rericha and a Master's Degree in Chamber Music at the Staatliche Hochschule für Musik in Trossingen with Prof. Chen Halevi. Her interest in historically informed performance practice led her to continue her studies at the Staatliche Hochschule für Musik in Trossingen with Prof. Ernst Schlader and currently at the Royal Conservatoire in The Hague with Prof. Eric Hoeprich.
Giulia is a passionate chamber musician and plays regularly in various ensembles; together with the Italian pianist Francesca Khalifa, she established a duo that has already performed with great success in the Netherlands, Switzerland, Austria, Italy and France and won prices in several chamber music competitions.
She plays both on modern and historical clarinets with various international orchestras such as: Orchestra della Svizzera Italiana, Hulencourt Soloists Chamber Orchestra, Haydn Orchestra of Bolzano and Trento, Orchester 1756 Wien, Northern Consort Groningen, Bremer Baroqueorchester, Mannheimer Hofkapelle, Schweizer Jugend Sinfonie Orchester, Hundisburg Sommermusikakademie, Junge Müncher Philharmonie.
In 2013 she made her brilliant debut as a soloist playing the Mozart Clarinet Concerto with the Orchestra della Svizzera Italiana in Lugano, conducted by Marc Kissoczy.
Giulia has premiered many works from young European composers collaborating with Ensemble Modern and Klangforum Wien in various festivals (Klangspuren Festival Schwaz, Impulse Academy, Opus XXI Bregenz). She has been awarded with prizes in national and international competitions for young performers, and has been granted scholarships from Fritz-Gerber-Stiftung für junge begabte Menschen, Schweizer Interpreten-Gesellschaft and the DAAD (German Academic Exchange Service).