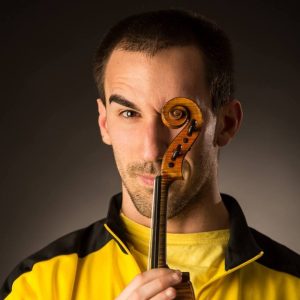 Gabriele Schiavi
Strings · Violin
Gabriele Schiavi si è diplomato al Conservatorio "G. Verdi" di Milano con il massimo dei voti sotto la guida della Prof. ssa Carlini. Ha conseguito il Diploma specialistico al Conservatorio di Torino con il massimo dei voti. Si è perfezionato all' Università di Vienna con il M. o Frischenschlager. Ha partecipato a Masterclass dei Maestri P. Vernikov, S. Krylov.
Durante il suo percorso di studi è stato premiato in concorsi: Città di Asti (I premio assoluto), Caffa Righetti (I premio), Concorso Musicale del Chianti (I Premio).
Ha collaborato con solisti e direttori d' orchestra: tra questi F. Luisi, D. Gatti, E. Dindo, Y. Temirkanov, S. Malkki. Ha collaborato con l' Orchestra del Teatro alla Scala di Milano, Ensemble Strumentale Scaligero, Orchestra Filarmonica di Torino, Accademia Teatro alla Scala (spalla), Orchestra Filarmonica Italiana. Collabora regolarmente con l' Orchestra dell' Università Statale di Milano, Orchestra Antonio Vivaldi, Festival Pianistico di Brescia e Bergamo. Si è esibito come solista in più occasioni in Piemonte, insieme agli Archi dell' Orchestra Filarmonica di Torino. Si è esibito nella stagione di MiTo e al Festival delle Nazioni di Città di Castello.
Ha partecipato come violinista alla realizzazione del nuovo disco di Laura Sullivan, vincitrice di Grammy Award. Si esibisce anche in concerti jazz.
E' assistente della Prof. ssa Carlini ai Summer Camp Zinaida Gilels, dove si occupa anche dell' orchestra di archi Junior, con bambini in età compresa tra i 6 e i 12 anni.
Insegna violino per il Val Tidone Summer Camp ed è membro di giuria nella sezione Archi del Val Tidone Music Competition.
E' docente di violino presso l' Istituto Civico G. B. Sammartini di San Donato Milanese. Ha insegnato presso la Civica di Cesano Maderno e l' associazione Harmonia di Gessate. I suoi allievi risultano ammessi nei Conservatori di Milano e Piacenza con brillanti voti.
E' Apple Certified Logic Pro user.
Gabriele Schiavi studied in Milan Conservatory, where he had a Bachelor Degree with highest honors. He had a Master Degree in Turin with highest honors and studied in the University of Music and Performing Arts in Vienna. He had masterclasses with several Professors, including P. Vernikov, S. Krylov. During his studies, he was awarded in national and international competitions: Città di Asti Absolute winner, Caffa Righetti 1st Prize winner, PromArt 1st prize.
He played with international conductors and soloists: F. Luisi, Y. Temirkanov, S. Malkki, E. Dindo. He worked for La Scala Orchestra (EXPO 2015), Accademia del Teatro alla Scala (Concertmaster 2013/2015), Orchestra Filarmonica di Torino, Orchestra UniMi.
He played with Ensemble Strumentale Scaligero and in chamber music groups, for MiTo Festival. He played as a soloist in Piemonte, with Crescendo Strings Ensemble, formed by members of Orchestra Filarmonica di Torino.
He collaborated with Grammy Award Winner Laura Sullivan. He also performs in Jazz concerts.
As a teacher, he worked in "Zinaida Gilels" summer camp, as Assistant Teacher of Prof. Carlini. He taught Violin in Civic Schools of Cesano Maderno (MB), Gessate (MI), now he is teaching in San Donato Milanese Civic School. His students were admitted in Piacenza and Milan Conservatories with great results.
He is a jury member in Val Tidone competitions, Strings section. He is Apple Certified Logic Pro user.