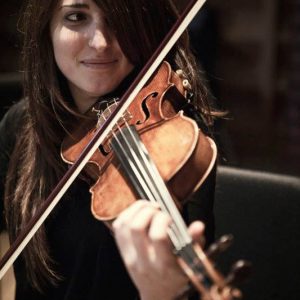 Annalisa Virzì
Baroque Ensemble · Baroque Violin
Curriculum of Annalisa Virzì
Annalisa Virzì  was born in Piazza Armerina- Sicily on 7th May 1988 and at the age of seven started playing the violin, learning later at the Conservatory "V.Bellini" of Catania (Italy) with Marco Serino ( Quartetto Bernini) and Stefano Pagliani (Concert Master Scala of Milano) and  she took part in the annual course with Oleksandr Semchuck at the Di.Es.Is. Academy in Roma.
She studied during the Erasmus Programm 2012 at the University of Music of Vienna with the Professor Klaus Maetzl (Alban Berg-Quartetts; Concert Master of Wiener Symphoniker), and after at the Prayner Konservatorium in Vienna with Barbara Gorzynska (winner of the International Henryk Wieniawski Violin Competition).
She attended  Masterclasses of Violine and Chamber Music of the Professors Mechthild Karkow, Gottfried von der Goltz, Enrico Gatti, Adrian Butterfield, Sabrina Frey, Wiebke Weidanz, Patrick Ayrton, Kristin von der Goltz, Andreas Helm, Yoko Yckicara, Yuriy Nasushkin, Sergey Girshenko, Luigi Mangiocavallo, Enzo Porta, Yves Savary, Marianne Piketty, Wolfgang Klos, Alessandro Quarta, Nuovo Quartetto Italiano.
In May 2010 she won the first Prize of the National Competition of Floridia " G. Ierna" in the section Chamber Music and during the sommer 2015 together with the "Ensemble an der Wien" won the Competition of Styriarte in Graz.
Since 2002 she took part in the OGIB (Youth -Simphony- Orchestra Bellini of Catania) conducted by Giuseppe Romeo and in March 2008  they won the second Prize of the European Competition for Youth Orchestras "Victor de Sabata" in Santa Margherita Ligure.
She was member of many Ensembles and Orchestras among which the "Orchester Wiener Akademie" conducted by Martin Haselböck;  the Barockensamble of Salvatore Carchiolo and Carla Marotta; the Ensemble "il Quadrifoglio"; the Orchestra "I Musici di Parma" which collaborated with Christoph Hartmann ( Oboist of Berliner Philharmoniker) and Giovanni Gnocchi ( Professor of the University Mozarteum Salzburg ); and the "Mediterranea Chamber Orchestra" conducted by John Neschling, Janos Acs, Joachim Jousse, Gunter Neuhold, during the summer season 2012 played with important pianists as Valentina Lisitsa, Paul Badura Skoda, Ivo Pogorelich, Lola Astanova and Martina Filjak.
From April 2016 she is member of the Baroque Orchestra of the italians Conservatories conducted by Enrico Onofri in Palermo and Vanni Moretto in Novara.
She earned the Master of Music degree in violin performance from the Parma Conservatory "A. Boito" (Italy), learning with Luigi Mazza (fellow of Nuovo Quartetto Italiano) on the 31st October 2013. On the 21st June 2015 she took the Master of Music degree in baroque violin at the Conservatory "Bruno Maderna" of Cesena (Italy) with Luca Giardini.
Currently she is studing baroque violin at the the MUK Music University of Vienna with Ulrike Engel.