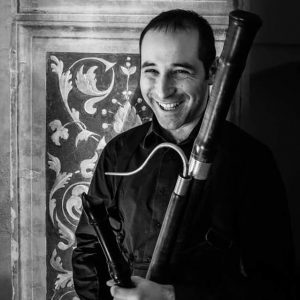 Alessandro Nasello
Baroque Ensemble · Bassoon
Alessandro Nasello, from Sicily, is a recorder and bassoon player.
He attended the Conservatory of Palermo in Piero Cartosio's class and obtained a Bachelor Degree in Recorder with honours first and a Master Degree in Recorder with honours and honours mention two years later. During those years, he approached the studies of historical bassoon under Maurizio Barigione's direction. As results, he obtained a Master degree in bassoon with honours and mention.
He has attended masterclasses held by Dan Laurin, Michael Form, Antonio Politano (recorder) and Alberto Grazzi, Giorgio Mandolesi, Alberto Santi , Frank Forst (bassoon)
He attended the Erasmus at the Conservatoire Royal in Bruxelles with Alain de Rijcher.
He has played in many European-festivals: Portugal, Francia, U.K, Austria, Belgium, Holland, Hungary, Germany, Italia, Romania, Bulgaria, Swiss, Malta with the orchestra of Ambronay, Zefiro, Accademia Bizantina, Modo Antiquo, Hofkapelle Esterhazy, laVerdi Barocca, EUBO2015, Accademia Barocca of Santa Cecilia in Rome, Divino Sospiro,Ad Mosam, Les Elements under the direction of Onofri, Antonini, Dantone, S.Kuijken, Minasi, Sinkovsky, Mortensen,  Alarcon, Sardelli, Podger.
He has been awarded at "Premio delle arti", arranged by Italian Ministry of Education
As a recorder player, he has awarded the second prize at "The National Competition for recorder" arranged by ERTAItalian  and he received honorable mention in the IX Premio delle Arti for "his completeness of trainings and his ease in the executive approach".
He has recorded for: Decca, ORF and Overplay.
Currently, he also teaches recorder at Liceo Musicale in Palermo; recorder, bassoon and ensemble music for the preliminary classes in the Festival of Early Music in Gratteri and recorder preliminary classes at the Conservatory in Palermo.