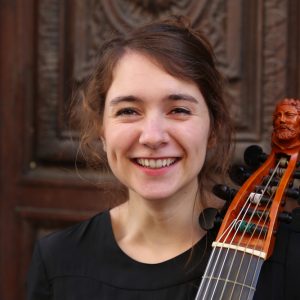 Garance Boizot
Baroque Ensemble · Viola da Gamba
Born in Paris, in a family of musicians, Garance Boizot began the viola da gamba and the cello at the age of seven. The knowledge of both instruments gave her the opportunity to play in various formations as in orchestra, string quartet, gamba consort, and a lot of chamber music. Over the years, she benefited from the teaching and the guidance of multiple musicians such as Christine Plubeau in the conservatory of Paris ; Olivier Schneebeli for concerts in the Royal Chapel of Versailles ; Wieland Kuijken for masterclasses, Paolo Pandolfo and Juan Manuel Quintana during courses. She took part of several orchestra and group of chamber music such as 'Koechel 440', 'La Banda Ariosa' or 'World Opera Lab' for which she shared the stage with a dancer and a story- teller. She is now a regular member of 'Le Voci delle Grazie', an ensemble focusing on Italian vocal music of the 16th and 17th Century.
Those different projects led her to participate in various famous festivals in the Netherlands and Europe like Festival JAN EFF, MA Fringe Festival in Bruges, Festival Vivat Curlandia in Latvia and Festival Oude Muziek Utrecht.
After a degree of music studies in the regional conservatory of Paris, followed by a Bachelor degree at the Royal Conservatory in the Hague with Mieneke van de Velden and Philippe Pierlot, she is now in Master of Viola da gamba in the Conservatoire National Supérieure de Musique et de Danse in Lyon with Marianne Muller.