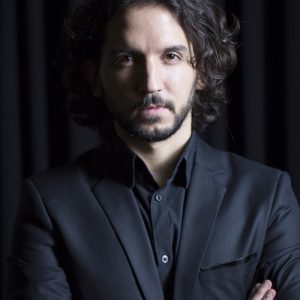 Leandro Marziotte
Baroque Ensemble · Voice
Leandro Marziotte won the first prize, of jury and public, at the International Händel Competition 2014 in Göttingen, Germany, as countertenor soloist with the ensemble Radio Antiqua. Leandro has been also finalist in the first International Countertenor competition in Lugano, Switzerland in 2011.
He has a Masters in baroque singing from the Royal Conservatoire of the Hague, in The Netherlands. He has also a Bachelor and a Lyrical Singing Diploma from the Strasbourg Conservatoire. He studied with Michael Chance, Peter Kooij, Jill Feldman, Rita Dams, Françoise Kubler, Martin Gester and Michèle Ledroit.
In 2013 he founded the early music ensemble Cantus Luscinia. The ensemble interpret different repertoires but are specifically dedicated to italian, spanish and latin-american baroque music.
Leandro performs regularly as a soloist with groups such as: 'Le Parlement de Musique' (Martin Gester), 'Ricercar Consort' (Philippe Pierlot), 'Cappella Mediterranea' (Leonardo García Alarcon), 'Ensemble Elyma' (Gabriel Garrido), 'Le Concert Étranger' (Itay Jedlin), 'Orchestre Baroque Les Passions' (Jean-Marc Andrieu), 'Stuttgarter Barockorchester' (Jörg Halubek), 'Göttinger Barockorchester' (Bernd Eberhardt), 'Radio Antiqua' and the 'Ensemble Caprice' (Matthias Maute) of Canada.
His last solo Album 'Frangi Cupido i dardi', recorded for Arcana (Outhere Music) in Italy, is dedicated to unreleased cantatas of napolitan composers as Vinci, Leo, Hasse and Scarlatti.
He participates in different opera productions as 'Serse' (Arsamene), 'Orlando' (Orlando), 'Deborah' from Händel (Barak), 'Dido and Aeneas' from Purcell (Sorcerer), 'A Midsumer Night's Dream' from Britten (Oberon). At present Leandro interprets the role of Ottone in 'Agrippina' in Oldenburg's Theater (Göttingen Händel Festival) and the role of Hamor in 'Jephtha' in Halle's Theater (Halle Händel Festival).