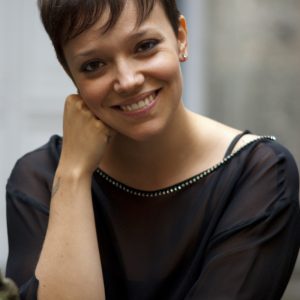 Cristina Grifone
Baroque Ensemble · Voice
Cristina Grifone
Having previously graduated in Psychology, Cristina was one of the outstanding graduates of 2008 at the Conservatory San Pietro a Majella in Naples. However, she had already been collaborating with various orchestras and choirs as early as 2006 (in particular the choir Mysterium Vocis), performing in Naples, but also in France and Finland.
She performed as a soloist with the Nuova Orchestra Alessandro Scarlatti in numerous concerts at the Parco della Musica in Rome, at Prinzregentheatre in Monaco and at the RAI auditorium in Naples.
Specialising in Early Music, she has participated in seasons such as Pavia Barocca, and with the Alessandro Scarlatti association. This latter collaboration saw her awarded the Premio Nazionale delle Arti, in the Early Music section, in 2011. In 2012 she won the Beata Paola Montaldi international prize for sacred music, and in 2013 she was a finalist in at the Città di Bologna operatic competition. During 2014 she performed as soloist in the J.S. Bach Magnificat BWV 243 with Collegium Musicum de Lausanne in the Lausanne Bach Festival.
In 2015 she extended her operatic career by performing the role of Emilia in the Haendel's opera "Catone" with the Auser Musici orchestra for the "Opera Barga 2015" and the role of Merlina in the Cimarosa farsa "L'impresario in Angustie" with the Musica Fiorita Ensamble for the Basel Festtage Alte Musik.
She currently works with Antonio Florio ensemble, I Turchini, performing at various international festivals like "Actus Humanus" in Gdansk and in the concert season (2013) at the opera in Lausanne. She performed on the 2013 recording for the Glossa label of Gaetano Veneziano "La Santissima Trinità" Oratory for the Birth of the Word.
Having moved to Amsterdam last year to do a Masters in solistic interpretation of barroc repertoire at the Conservatorium van Amsterdam, she has done numerous work collaborations namely with "Cappella Estense", an ensemble sponsored by the prestigious Anner Bijlsma Award presented within the context of the Cello Biennale Amsterdam 2017, with whom she has performed as a soloist at the Muziekgebouw aan 't IJ.